Bevi's bodacious and luscious ode to...


Bete Noire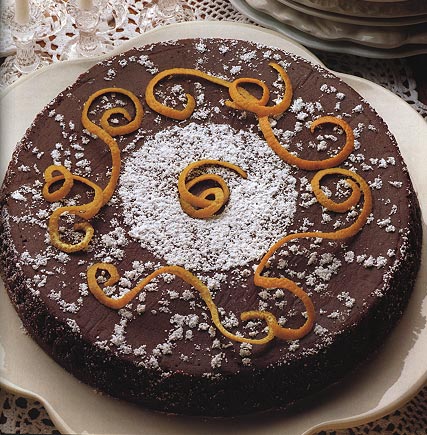 Ingredients:
1/2 cup water
1-1/3 cups sugar
8 oz (1-2/3 cups) of unsweetened chocolate, chopped
4 oz (-1 cup) of semisweet chocolate, chopped
1 cup of unsalted butter, cut into 4 pieces, at room temp.
5 extra-large eggs, at room temp.
Confectioners' sugar and orange zest for topping.

From Williams-Sonoma Chocolate
[Bevi's notes: I often have to bake this delightful cake about 15-20 minutes longer than the recipe calls for. Otherwise the center is way too runny and gooey...runs like pudding when I remove it from the pan after baking, rather than having a soft, creamy, but firm texture.

I also reduce the sugar to just less than 1 cup, because this cake is quite rich on its own.]
Preheat oven to 350 degrees. Heat hot water to use for the water bath.
Prepare the pan — Butter a 9-inch layer cake pan (dark meal pans are best for baking). Line the pan with a circle of parchment (or wax paper) that's been trimmed to fit the pan. Butter the paper. Since this delicate cake needs to be baked in a water bath, place the pan inside another pan that's large enough so that the sides do not touch.
Melt sugars & chocolate — Place the water and 1 cup's worth of the sugar into a heavy saucepan, bring to a rapid boil while stirring until the sugar dissolves completely. Turn off the heat, add both chocolates to the pan, and stir until melted. Add the butter, piece by piece, and stir until melted and thoroughly incorporated.
Prepare batter — Place the eggs and the remaining 1/3 cup sugar in a bowl. Beat with either a whisk or electric beater (medium setting) until slightly thickened, just a few minutes. With a rubber spatula, fold the chocolate mixture from the pan into the beaten eggs until well combined.
Fill the pan — Scrape the batter into the prepared pan and smooth the top. Place the double-pans on the oven rack and fill the outer pan with hot water to reach 1/2 inch up the sides of the cake pan.
Bake — Bake 30 minutes @ 350 degrees, or until the cake looks dry but is not firm.
Cooling — When done, remove the cake pan from the oven and immediately cover the top of the cake with a sheet of plastic wrap. Invert the cake onto a flat plate and peel off the parchment paper that was on the bottom of the cake pan. Cover the cake with another flat plate, invert it, and remove the plastic wrap. Let cool to room temperature.
Serve — Sieve on some confectioners' sugar and decorate with orange zests. Serves 8